Logistic Warehousing
The ideal solution if you do not wish to invest in and administer your own warehousing and distribution.
It enables you to concentrate your full resources in capital and personnel in your main core of business operations.
In addition the service provides you the benefits of fixed costs and flexibility and will allow you the flexibility to expand or adapt to changes in market requirements whenever you need it.
Our warehouse logistic service can be customised to meet your individual needs and offers competitive distribution costs.

A typical service programme may include:
All inputs received into stock, checks against delivery documentation and advising of receipts, quantities, and shortages etc.


Goods placed in a designated stock location according to any shelf life, batch code and format as required


Flexibility of pallet storage, and shelf pick & pack storage for individual components, depending on your need


Computer and physical stock control programmes provided in accordance with agreed service levels


Full goods in management, products selected in accordance with agreed procedures, orders packed in accordance with consignee requirements in a secure and suitable manner for onward transportation.


Advice and supply of any packaging necessary for safe onward transportation. We pride ourselves on the reuse of packing materials whenever possible.


Arrangement of onward transportation from our warehouse to your customer by the most economical and effective method; and to your customer's requirements. Our flexibility allows you to choose the service level to suit your budget. We offer same day, next day, and economy services to UK and worldwide delivery points with total despatch coverage. Consignments may range from small postal items through to parcel carrier consignments, pallets, up to large bulk deliveries in container loads.


Additional services such as billing, accountancy, banking, customs clearance and import and export documentation can be provided


Freight Forwarding
We operate a comprehensive service to meet your import and export needs to and from most world locations by road, sea and air. We'll deal with customs formalities, duties and documentation and our jointly operated warehousing facilities span Europe and extend to North America.

Archive & Documentation Storage
Our records and documentation storage is a popular way for you to free up expensive office space.
This secure and confidential service allows you to visit and examine your documents whenever you need. We also offer local collection and delivery and can advise you on the destruction of materials including confidential items, or more environmentally friendly recycling of less sensitive items.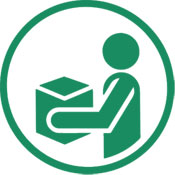 .